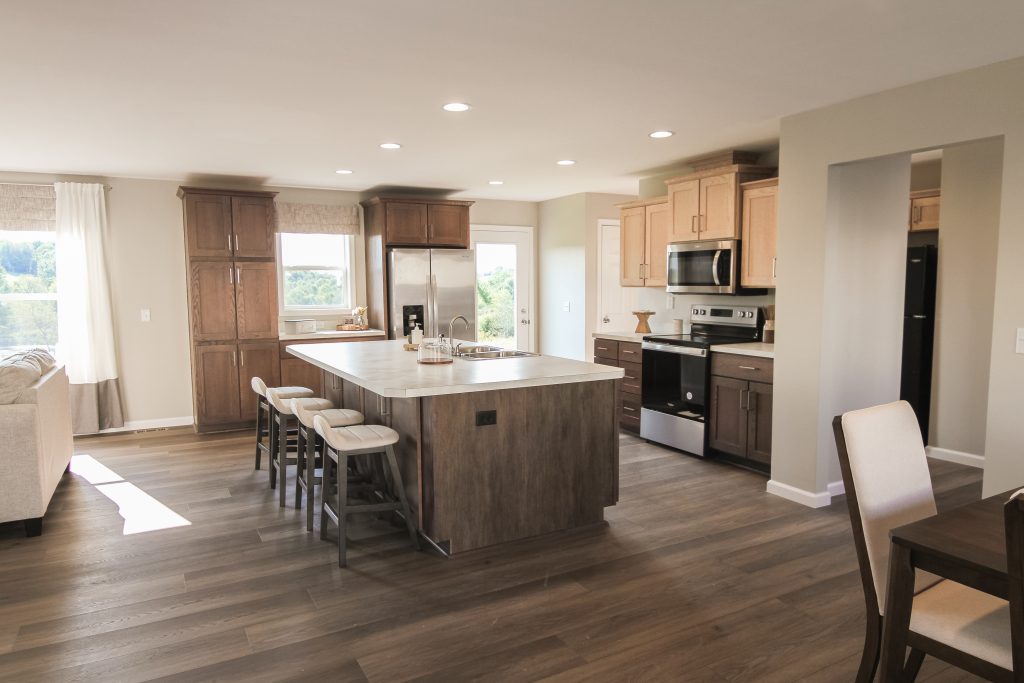 Reserve Limited 1.2 | 2P2902-X | Modular
1,846 Sq. Ft

Flex room options to meet your lifestyle!
The Limited is the latest home series by Pennwest Homes, offering seven new floorplans to choose from. The Limited's trademark is the Flex Room. The Flex Room offers ten creative ways to utilize your new space. Not to mention the Back Kitchen, Power Pantry, Welcome Home Valet, and the Connect Laundry features. The point is, we're making life easier for you. The Limited also has new features specific to this home series. Check it out now!
The Back Kitchen – The kitchen is where we entertain so the Back Kitchen is where the counter clutter goes (coffee maker, toaster, blender, etc.) Also cooking prep before and clean up after. Second freezer space for freezer or additional refrigerator since we never have enough storage for beverages.
Power Pantry – How we shop today is in bulk. Power Pantry provides bulk storage and can reduce the need for kitchen overheads, allowing the kitchen to be more streamlined and contemporary. 
Welcome Home Valet – Entry into your home should be an inviting event. The Welcome Home Valet says – "Welcome home it's time to kick back and relax". This area provides a location to store you personal belongings (coat, purse, back-pack, shoes, cell phone, keys, etc). After a stressful day from work or school no one wants to enter past a stack of dirty laundry.
Connect Laundry – Let's put the laundry where it makes the most sense; connected to the master closet and close to secondary bedrooms. Shorten the chores by taking clothes directly from the dryer to the closet or removing the wrinkles from that shirt for an evening event.
Pet Palace – A majority of homeowners are also pet owners. The Pet Palace provides a place for bathing your pet at an elevated height. It also serves as the location for storing pet "stuff", pet bed or crate, pet feeding location or even litter box hide-away.
Pocket Office – Busy households need a space everyone can use. Working from home or an area for the kids to do homework; the Pocket Office provides a private area to get away and concentrate on the task at hand or do some gaming without distracting others.
Clean – Up Crew – Whether you're a mechanic, builder, farmer, or hard worker that just needs that place to clean up after a busy day of work. Located directly off the side entry the "Clean-Up Crew" bath provided a private bath to clean-up prior in entering into the common areas.
Winter Organizer – Located directly off the Welcome Home Valet the Winter Organizer is a place for all your winter gear. Hunters have a place to store their camo and the kids have a place for snow gear to dry. Shelves for storing boots, scarves, hats & gloves, and a coat rod for coats, snow pants, and overalls. Keep everything in one place!
Entertainer – For entertaining guests or family convenience the beverage center may serve as a coffee bar, beverage center, or for wine storage. It's a serve-self area for everyone.
Hobbyist – All hobbies require space! The Hobbyist offers countertop space for creating, cabinets for storing it all away, and a sink for rinsing molds, brushes, and more.
Learn more about the Pennwest Limited and take a virtual tour, by clicking here.