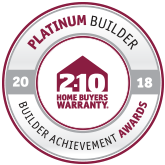 2-10 Home Buyers Warranty recognizes The Commodore Corporation as a Platinum Builder for 2018!
The Commodore Corporation is proud to accept this award from 2-10 Home Buyers Warranty!
The award is described as below:
The Platinum Builder Award Recognizes accomplished builders who demonstrate leadership in new construction with innovations in design, marketing strategy, and construction technology. These builders think big while remaining committed to provide the personal touch that connects home buyers to the communities in which they build.